A diehard bhakt of Lord Shiva, Kanti Sharan Mudgal (Pankaj Tripathi) is forced to question his own thoughts and societal norms on morality, religion and sex after his son gets expelled from school on grounds of obscenity.
"OMG 2" is a hilarious yet thought-provoking comedy-drama that follows Kanti Sharan Mudgal, a devout Lord Shiva follower, as he battles an unjust expulsion of his son, Vivek. When a divine intervention awakens his resolve, Kanti returns to confront the culprits, eventually dragging them into a dramatic courtroom battle. His mission: to ensure comprehensive education reform in schools. In a heartwarming and humorous journey, the film explores themes of justice, family, and the power of conviction. It's a satirical triumph that will leave audiences laughing and inspired.
OMG 2 Movie Cast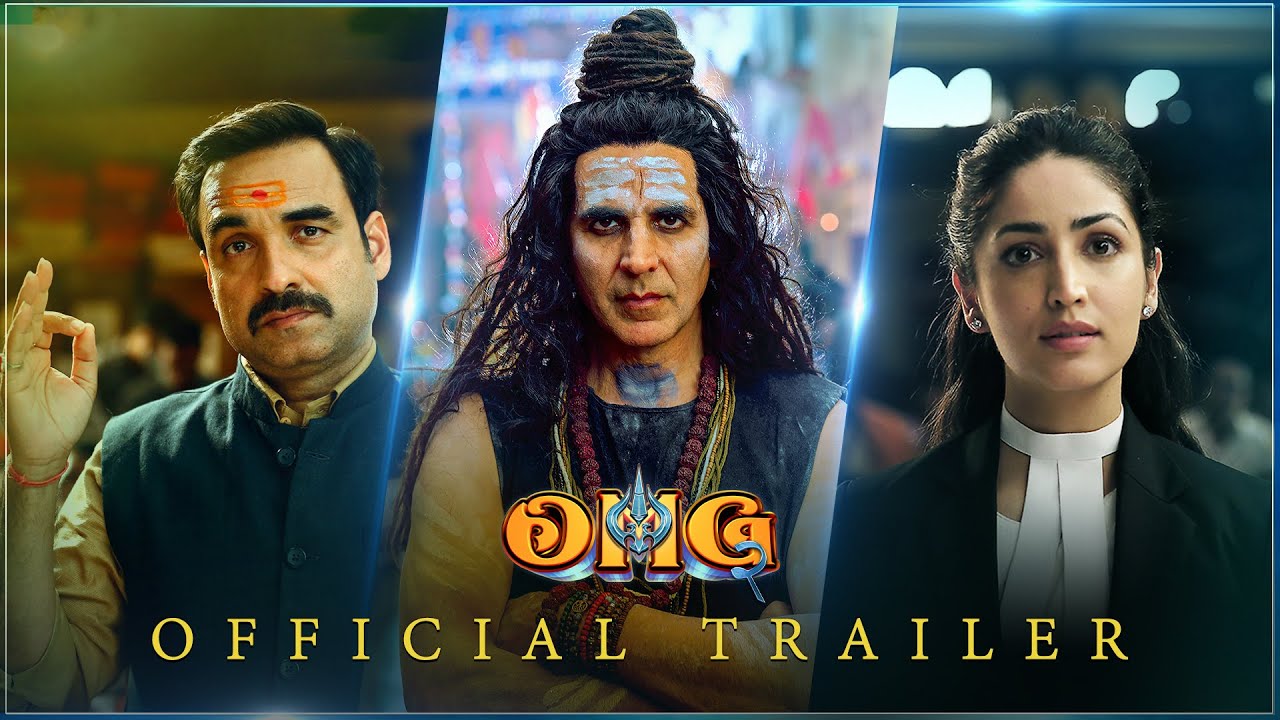 OMG 2 Movie Musical Ensemble
The music for "OMG 2" was a collaboration of talented musicians, adding depth and emotion to the film:
Vikram Montrose
Hansraj Raghuwanshi
Djstrings
Pranaay
Sandesh Shandilya
Distribution and Edit
The film was distributed by Viacom18 Studios, ensuring its reach to a wide audience. The editing of "OMG 2" was skillfully handled by Suvir Nath, shaping the narrative for maximum impact.
OMG 2 Movie Production Details
Country: India
Language: Hindi
Budget: An estimated ₹50 crore
Production Companies: Cape of Good Films, Viacom18 Studios, Wakaoo Films
Cinematography: Amalendu Chaudhary
Running Time: 155 minutes
Box Office Success: ₹182.85 crore
Produced by: Aruna Bhatia, Vipul D. Shah, Rajesh Bahl, Ashwin Varde
OMG 2 Movie Release Date
"OMG 2" was released on 11 August 2023, captivating audiences with its unique blend of humor and social commentary.
Where the OMG 2 Movie Circulates
"OMG 2: Challenging Taboos with Humor and Heart"
The Viral Scandal and Its Consequences
In "OMG 2," we are confronted with a controversial and viral video that captures Kanti's troubled son, Vivek, in a compromising situation in the school washroom. This incriminating video leads to Vivek's expulsion from school as the institution seeks to protect its reputation. Overwhelmed by shame and fearing public outrage, Kanti takes the drastic step of fleeing with his family to an undisclosed location. As the situation worsens, with Vivek's mental health deteriorating due to humiliation and bullying, Kanti begins to question his role as a parent and an adult.
A Father's Fight for Justice
Driven by his deep religious beliefs, Kanti decides to take legal action against the school, holding it accountable for the severe mental harassment inflicted on his son. He demands that the elite institution acknowledge its negligence in providing sex education and access to information for its students.
The Unconventional Defense
The school counters Kanti's accusations by appointing Kamini Maheshwari, an English-speaking lawyer portrayed by Yami Gautam, as their defense counsel. Kamini takes a bold stance, arguing that 'masturbation is a sin,' and asserting that conservative society is not prepared for sex education. She even questions why private parts should be openly discussed.
The Clash of Beliefs in Court
The clash of these opposing viewpoints unfolds in a courtroom setting, presided over by the delightful Judge Purushottam Nagar, played by Pavan Malhotra. The film takes some liberties in its depiction of the court proceedings, but the battle fought on moral grounds remains compelling.
A Sequel that Surpasses the Original
"OMG 2" emerges as a rare sequel that surpasses its predecessor. Writer-director Amit Rai fearlessly tackles sensitive topics, challenging societal norms while respecting the values of religion, dignity, and family in India. Rai's language is authentic and progressive, pushing the boundaries of conventional conversations and addressing issues long kept in the shadows.
Opening Conversations on Sensitive Topics
The film confronts the unspoken divide between desi parents and their children, highlighting the discomfort many feel when encountering intimate scenes in movies with their parents, the use of euphemisms for body parts, and the absence of menstrual education in schools. It questions the paradox of easy access to explicit content on the internet while sex education remains a taboo subject.
Entertaining and Thought-Provoking
While the first half of the film is particularly gripping, the overall narrative remains engaging throughout its 2-hour, 36-minute runtime. Akshay Kumar, with a more substantial role as the messenger of God following CBFC modifications, shines despite occasional awkward dubbing. The film's A rating may be a hindrance given its relevance for families and teenagers.
A Stellar Ensemble Cast
"OMG 2" boasts a talented ensemble cast. Pankaj Tripathi delivers an excellent portrayal of a father torn between guilt and anger. Akshay Kumar's star power and unique appearance leave a lasting impression, and his rendition of 'Udd jaa Kaale Kaava' from "Gadar" adds a delightful touch. Yami Gautam's sincerity shines through, even if attempts to portray her as a menacing lawyer sometimes miss the mark.
Entertainment with a Purpose
In conclusion, "OMG 2" demonstrates how a film can be both entertaining and socially relevant, providing thought-provoking insights. It challenges viewers to engage in important conversations while delivering humor and heart. This is a film that encourages families to come together and witness an intriguing blend of social commentary and humor.
Controversies and Debates Surrounding Its Release"
"OMG 2" has gained widespread attention, primarily due to the prominent actors Akshay Kumar and Pankaj Tripathi. However, the film has faced hurdles with the censor board, which has temporarily halted its release for a closer examination of its content. The central theme of the movie revolves around sex education, a topic that has sparked passionate debates in society.
The film's subject matter delves into whether sex education should be a part of the school curriculum, a topic that has divided opinions among the public. This controversy is not new to the "OMG" franchise, as the first part also encountered similar debates on the same subject.
Adding to the controversy, actor Paresh Rawal made headlines by withdrawing from the film due to his dissatisfaction with the storyline and its direction. His decision drew significant attention and fueled discussions about the film's content and message.
Despite the ban, the film's creators released a short video featuring Akshay Kumar portraying the character of Lord Shiva, further intensifying discussions and curiosity surrounding the movie.
Now, the public is engaged in a lively debate about whether sex education should be integrated into school curricula and whether "OMG 2" should ultimately be allowed for public viewing. The review committee of the censor board holds the key to the film's fate, and its decision is highly anticipated.
For Akshay Kumar, "OMG 2" carries significant weight as it was seen as a potential career-saving project following a series of box office disappointments. The film's uncertain future has added to the actor's anxiety about its reception and impact.
In essence, "OMG 2" has become more than just a movie; it has ignited a larger societal conversation about a critical topic, emphasizing the power of cinema to stimulate discussions on important issues.
---