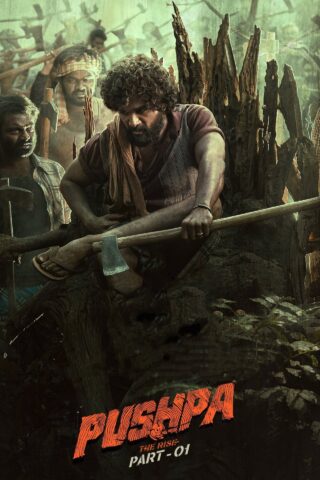 Pushpa: The Rise – Part 1
Action, Crime, Drama, Thriller
Pushpa: The Rise - Part 01 (2021), Action Thriller released in Telugu, Tamil, Malayalam, Kannada and Hindi language in theatre. Know about Pushpa Film reviews, lead cast & crew, photos & video song on 13377x movie List.
Pushpa, a worker, earns a small wage but dreams of a better life. His stepbrothers always let him down because he's their father's illegitimate child. He gets a chance to work in a dense forest where red sanders are smuggled abroad. Workers are always watched by DSP Govindappa, but Pushpa dares to challenge everyone, causing problems for DSP.
Pushpa manages to save a valuable smuggling shipment from DSP's watchful eyes, gaining recognition from the Reddy Brothers (Konda Reddy, Jakka Reddy, and Jolly Reddy), who are known for smuggling red sanders. Pushpa often tricks DSP and his team to smuggle red sanders, becoming close to Konda Reddy.
Pushpa changes his life and plans to marry Srivelli, but his stepbrothers reveal his mother's past with their father, leading to the cancellation of the marriage. Pushpa, determined to keep rising, discovers that Mangalam Sinu, a syndicate member, is giving the Reddy gang less profit than they deserve. Pushpa asks Konda Reddy to increase the share, but Konda Reddy advises Pushpa to handle it himself to avoid a gang war. Fearless, Pushpa takes control, causing disagreements between the two gangs.
Movie Name - Pushpa: The Rise - Part 1
Release Date - 17 December, 2021
Genre - Action, Crime, Drama, Thriller
Total Collection - ₹373 crores
No Review found for this movie
No Review found for this movie
No Review found for this movie