Fukrey 3 Review: Following the consecutive successes of the Fukrey series, Mrighdeep Singh Lamba returns with the third installment, reuniting most of the original cast (with a few exceptions, as per your preference). In Bollywood, there's a prevalent tendency to produce sequels primarily for financial gain. If a film becomes a hit, the industry rushes to create a franchise or sequel, even if it's not necessarily warranted. Quality can often take a backseat, with profitability being the driving force behind these decisions. However, it's important to remember that the audience ultimately determines a film's fate, and as long as people continue to patronize such offerings, the cycle persists—a natural progression within the industry.
As a movie critic, my responsibility is to evaluate films just as the filmmaking team fulfills their role in creating them, and the audience has the essential task of deciding the movie's destiny. 'Fukrey' initially started as a decent source of entertainment, but with 'Fukrey Returns,' it seemed to drift towards forced mediocrity. Now, with 'Fukrey 3,' the once-promising franchise appears to have taken a disappointing turn towards a lower standard.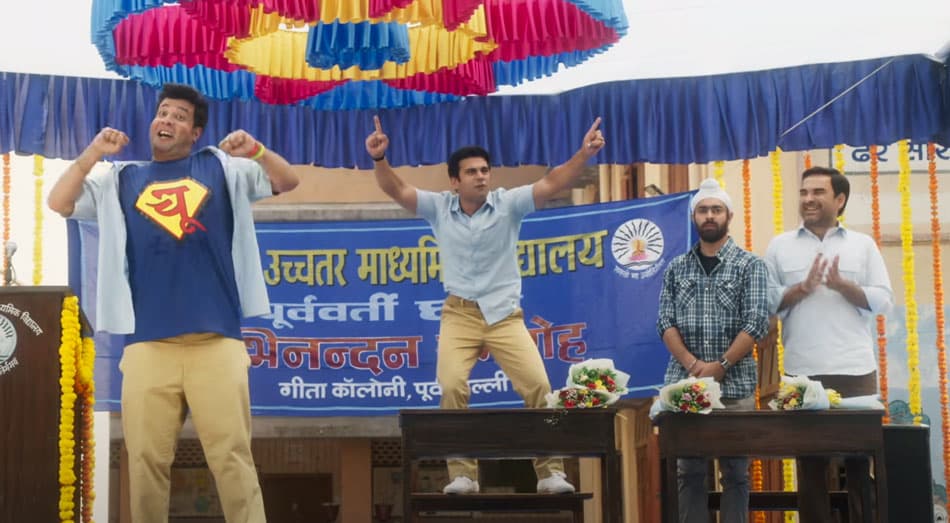 "Fukrey 3" lacks a substantial plot, but let's briefly delve into what's present. After an uneventful 4-5 minute recap, the film picks up with Choocha (Varun Sharma), Hunny (Pulkit Samrat), Lali (Manjot Singh), and Panditji (Pankaj Tripathi) struggling to make a living through a failing electronics store. Meanwhile, Bholi Punjaban (Richa Chadha) is running a political campaign and seeks support from the Fukrey gang.
During her campaign, Choocha unexpectedly gains popularity, prompting Hunny to concoct a plan to make Choocha an MLA and then a minister. Recognizing Choocha as a threat to her political aspirations, the cunning Punjaban hatches a scheme to send the four Fukreys to Africa in search of a diamond using their renowned "Deja Choo" technique.
In Africa, the gang discovers Bholi's intentions and attempts to return to India. However, a twist of fate intervenes. Choocha and Hunny acquire the ability to create a hydrocarbon liquid, essentially petrol, which could make them millionaires. But their path to riches isn't straightforward, as they must contend with Bholi Punjaban and a new male antagonist. For all the laughs and excitement, catch the full story in the movie.
Vipul Vig has crafted one of the most nonsensical and baffling comedy scripts in recent memory with "Fukrey 3." The film, which doesn't even attempt to make sense, forces you to question its logic repeatedly throughout its lengthy runtime of approximately 145 minutes. To make matters worse, the screenplay is equally abysmal.
I understand that the current comedy landscape might not be producing exceptional or even decent comedies, but "Fukrey 3" takes the cake in terms of sheer mediocrity. It has stooped so low that if I were to dissect and critique every scene here, it might lead to Google removing my review for offensive language. One can't help but wonder why they didn't incinerate this abysmal script with the petrol they had on set.
Watching "Fukrey 3" is an exhausting ordeal, with numerous moments that test your patience. The film transforms a routine visit into a political movement, allows a group to casually smuggle a diamond from Africa, permits a reporter to leap into a politician's vehicle for an impromptu interview and debate, portrays a school principal as bewildered by his students' incoherent ramblings in front of their peers, and shows how a mobile video can spark hysteria across town, while the same townsfolk are clueless about someone's whereabouts for days. It also inexplicably turns a routine petrol deal into a doomsday scenario, as if all the ministers were on vacation.
The marriage sequence was particularly horrendous, almost sinking to a B-grade level of filmmaking. I could continue critiquing in this manner and inadvertently craft a more coherent script than "Fukrey 3" just through criticism alone. Where were the laughs in this comedy, if you can even call it that? To label it as a good comedy would be a joke in itself.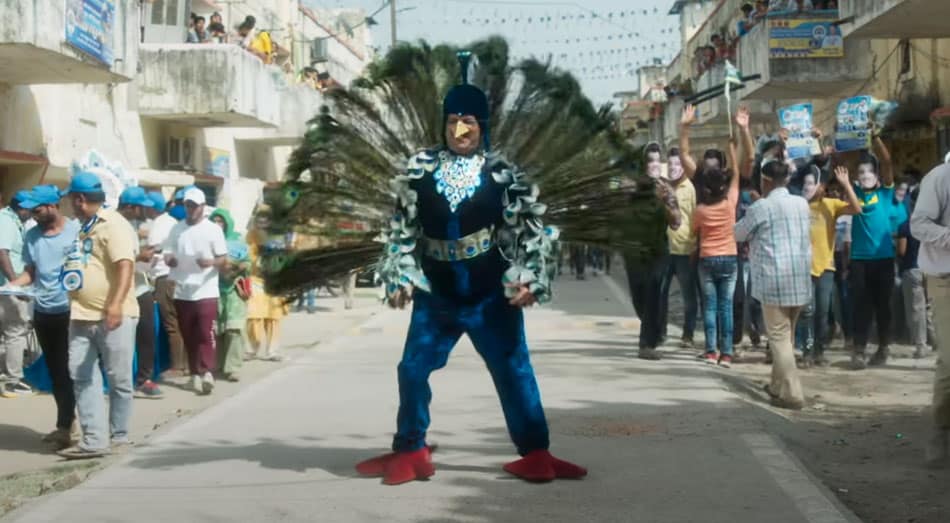 "Fukrey 3" isn't exactly a performance-driven film, making it a challenge to review the actors when it seems like they're rehearsing for a spoof rather than delivering serious performances. Pulkit Samrat emerges as one of the more grounded characters, boasting good looks and a solid physique that makes him enjoyable to watch. On the other hand, Varun Sharma comes across more like a young stand-up comedian than a seasoned actor in the context of "Fukrey 3." His accent appears to have deteriorated over time, and if he doesn't address it soon, it could become a significant hindrance.
Richa Chadha, who looked stunning and charismatic in the original "Fukrey" (2013), doesn't quite capture the same allure anymore. As we all know, actresses' on-screen glamour often has a limited shelf life, and it's been a decade since we first saw the captivating Bholi Punjaban. It seems the makers overlooked this fact.
Pankaj Tripathi, comparing his performance in 2013 to 2023, has undergone significant changes, and they're mostly for the better. While his work in "Fukrey 3" may fall slightly below his usual high standards, it's still a decent effort, albeit hindered by some lackluster dialogues.
Manjot Singh appears to be falling into a typecasting trap, but it may not pose a problem as long as he maintains his versatility. Interestingly, some of the supporting cast members, despite their limited roles, manage to deliver more engaging expressions than some of the main cast.
"Fukrey" and "Fukrey Returns" treated us to some memorable music that still resonates today. However, when it comes to finding a single noteworthy song in "F3," the answer is a resounding NO. The lyrics and background score are equally disappointing. Cinematography manages to hold its ground, but editing hits an all-time low for the franchise.
When a film lacks a solid script, it begs the question of why it's wasting the audience's time. It might be better to wrap up the mess swiftly and let us head home sooner. Mrighdeep Singh Lamba probably had a nightmare after reading the script for "F3," and it seems he never quite recovered from it. The film's presentation appears hasty and careless, as if it were directed by someone still in the throes of a waking nightmare.
What's even more frustrating is the below-the-belt treatment of the characters. Every character and conflict seems trapped in a cycle of either aiming for death or attempting to be vulgarly humorous. This approach fails in both cases and only succeeds in leaving the audience feeling exasperated.
There's much more to critique, but why waste valuable words on a subpar product? In summary, "Fukrey 3" is a rather crude form of entertainment—you know what I mean. If the film can employ cheap humor under the guise of comedy, why can't reviewers respond in kind?
Get ready for a wild ride of craziness that will leave you wondering what's coming your way in 'Fukrey 3'. Don't miss the trailer of this movie before heading to the theaters!