The movie 'Jawan' made a huge impact on its first day in theaters, achieving a historic feat for Shah Rukh Khan and his fans all over the world. The film had been eagerly awaited for a long time and finally premiered on September 7. As predicted, it was a huge success and did exceptionally well at the box office.
Jawan Box Office 1st Day Collection
According to trade sources, the SRK-led movie earned an impressive Rs 74.50 crore in the Indian market. The film's popularity went beyond borders, as it brought in an astounding Rs 129.06 crores at the global box office. Thanks to this exceptional success, 'Jawan' has become the biggest Bollywood opener in the history of cinema.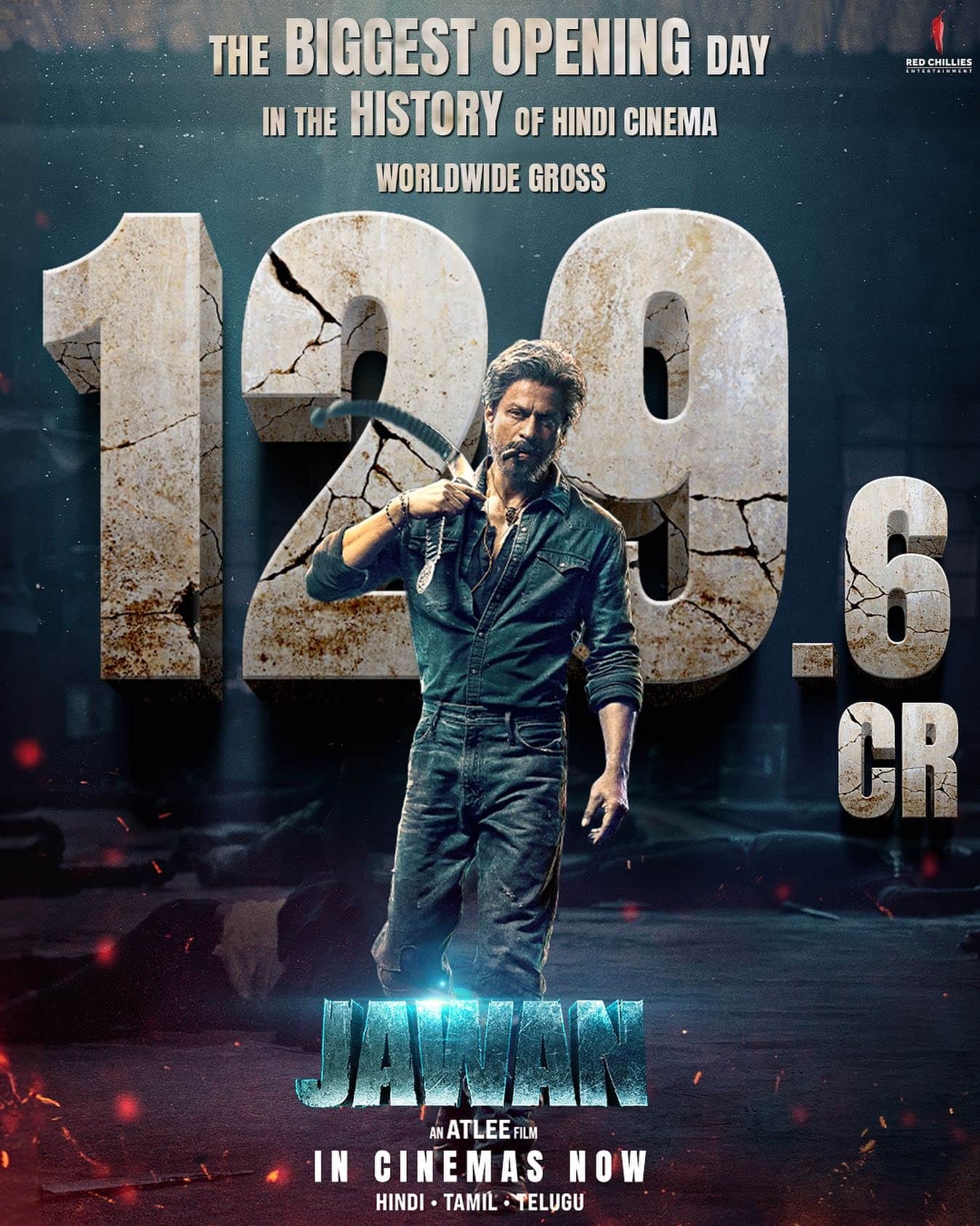 The success of 'Jawan' has been remarkable, not just in India but also internationally. In Australia, the film made AUD 400,000 on its opening day, becoming the top-grossing Indian film ever shown in the country. In New Zealand, it debuted at number 1, earning NZ$ 79,805 (Rs 39.13 lakh). 'Jawan' also made an impact in Germany, debuting at number 3 with earnings of Rs 1.30 crore. It has also performed well in North America, the UK, and Canada, captivating audiences and showing great promise.
Gautam Dutta, Co-CEO of PVR INOX Limited, expressed great pleasure at the tremendous response to the movie 'Jawan.' He highlighted the film's wide-reaching appeal that surpasses regional boundaries, thanks to its star-studded cast, including beloved South Indian actors Nayanthara and Vijay Sethupathi, as well as the availability of Tamil and Telugu dubbed versions. Moreover, the audience's cinematic experience was enhanced by special screening formats like IMAX, 4DX, and ICE.
Dutta commented on the release of the film during a time when the cinema industry is experiencing a resurgence, with many people going to theaters. The positive response from the audience suggests that 'Jawan' may not only be a strong contender for the top film of the year, but it could also make an important contribution to the world of cinema.
As 'Jawan' continues to captivate audiences, its trailer offers a glimpse into the cinematic spectacle that has garnered such widespread acclaim. You can watch the trailer here: